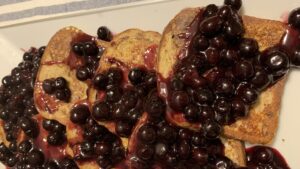 1/2 cup blueberry pomegranate juice
2 tsp. cornstarch
2 Tbsp. brown sugar
1/4 tsp. cinnamon
2 cups blueberries
1/2 cup milk
2 eggs
8 slices cinnamon swirl bread
Mix juice, cornstarch, brown sugar and cinnamon in small bowl. Place in small saucepan; add blueberries. Heat over medium-high heat until it begins to boil, about 5 minutes. Reduce heat to low and simmer for 2 more minutes.
Meanwhile, whisk together milk and eggs in medium bowl. Spray a large skillet with no-stick cooking spray. Heat pan over medium heat. Dip bread in egg mixture on each side; shake off excess. Place in pan and cook until golden brown, about 2 minutes on each side. Serve topped with sauce.
Makes 4 servings, 2 slices toast and about ¼ cup blueberry sauce.