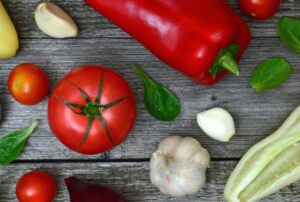 Next time you eat, take a moment to look at the color on your plate. Ask yourself, how many colors do I see?  So why is it important to eat more colorful foods in our diet and on our plates? Research has shown that a colorful eating pattern or "eating a rainbow" is a great way to boost health and vitality and reduce the risk of many chronic diseases.  
Benefits of Eating More Colorful Foods
There are numerous health benefits to adding color to your plate. One of the most important is that plant-based foods provide fiber. Adults require approximately 25 to 30 grams of fiber per day. Fiber provides the structure in plant-based foods so fruits, vegetables, whole grains, beans, and legumes are great foods to include in your diet. 
Remember that fiber requirements can vary by caloric needs. You'll want 14g for every 1,000 calories. Add it slowly to avoid gastrointestinal symptoms such as cramping and bloating. It's essential to also get adequate fluid and movement especially as you increase your fiber intake. 
Colorful plant-based foods contain substances called phytonutrients, which can be beneficial to health and aid in disease prevention. Certain color foods contain specific phytonutrients making it even more important to eat an array of colors. 
Begin to eat more colorful foods from plants by aiming to get 2 cups of fruit and 3 cups of vegetables per day based on a 2,000-calorie diet. Add in a serving of nuts and replace animal products with plant-based proteins. Challenge yourself and try new foods to make your plate look more colorful and inviting.
Food Color Classifications
As discussed, different phytonutrients have different benefits. These health-enhancing substances can be classified by their color. Here are some of the main color groups and the substance in them that provides health benefits. We've also provided some tips on how you can easily add foods to get more phytonutrients in your diet.
Red: Lycopene reduces the risk of breast and prostate cancers and boosts heart, brain, eye, and bone health.
Tip: Add tomatoes to your sandwich.
Orange: Beta-carotene fights cancer, reduces inflammation, supports the immune system, and boosts vision.
Yellow: Vitamin C and flavonoids boost the immune system, reduce inflammation, inhibit tumor cell growth, and detoxify harmful substances.
Tip: Chop up carrots and bell peppers and add them to your bean chili.
Dark Green: Calcium strengthens the bones and muscles and boosts heart health. Light Green: Indoles and lutein eliminate excess estrogen and carcinogens and support eye health.
Tip: Add mixed greens and fresh basil and parsley to your salads. 
Blue: Anthocyanins destroy free radicals, reduce inflammation, and boost brain health. Purple: Resveratrol boosts heart and brain health and may decrease estrogen production.
Tip: Add blueberries or blackberries to your morning breakfast yogurt or cereal. 
White and Brown: Fiber boosts digestion and weight loss and helps remove waste, like excess hormones and carcinogens.
Tip: Roast cauliflower in the oven and eat or use it as a substitute for rice or pasta. 
The daily goal is to include 2-3 different colors of plant-based foods with a weekly goal of 30+ colors a week.
Focus on Eating More Colors
Plant-based or plant-forward eating includes fruits and vegetables, also nuts, seeds,  whole grains, legumes, and beans.  When a focus on eating more colors from these types of food becomes a priority, there can be an improvement in overall health and a reduced risk of chronic disease.
---
Sources:
https://www.heart.org/-/media/AHA/H4GM/PDF-Files/Eat_More_Color_infographic.pdf

https://www.heart.org/en/healthy-living/healthy-eating/add-color/5-reasons-to-eat-more-color

https://www.health.harvard.edu/blog/what-is-a-plant-based-diet-and-why-should-you-try-it-2018092614760

https://academic.oup.com/ije/article/46/3/1029/3039477
---
Contact Walsh Nutrition Group, Inc. to learn how you can get more plant-based foods into your diet.