Menopause isn't the end; it's a new beginning.
There is hope for relief for all women at all stages of menopause.
As we transition out of our reproductive years through perimenopause and menopause, most of us don't miss our monthly periods. If we chose to have children, we also are starting to gain more freedom in our lives again.  However, there are other changes that happen to our bodies during this time that may not be quite as welcome.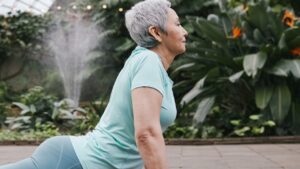 The transition to menopause usually takes between two to eight years, and this time is called perimenopause.
During this time, you may start to experience unwelcome symptoms that may be fairly regular or may only happen occasionally, including:
Mood swings: Hormone fluctuations can leave women feeling sudden changes in their emotions or even somewhat out of control. It's not unusual to feel more irritable, tired, anxious, or sad at times.
Night sweats: These are hot flashes that occur while you're sleeping. You may suddenly awake to find yourself sweating and overheating even though you were perfectly comfortable a bit earlier.
Sleep issues: It is typical to have more trouble falling asleep, may wake up more often, and may have trouble returning to sleep.
Weight gain: It is not unusual to find your weight slowly increasing even when very little has changed in your diet and activity levels. Hormone changes and aging both can contribute to this.
Once you no longer have your period for 12 months straight, then you are officially in menopause. In menopause, we have much lower levels of the hormones estrogen and progesterone. These lower estrogen levels can contribute to weight gain, and your metabolism is also slowing down as you get older. Weight gain can also contribute to an increased risk of high blood pressure, diabetes, heart attack, and stroke. It is important to make every effort to maintain a healthy weight throughout your life, including after menopause.
There are two products I have found that have helped me and my clients to minimize negative symptoms.
These supplements are hormone-free if you are looking for an alternative to hormone replacement therapy.
MenoFit® Probiotic: This well-researched probiotic blend can be a tool to help you navigate perimenopause and menopause in a more pleasant way. This supplement combines all-natural probiotics, herbs, vitamins, and minerals to help support menopause symptom relief. It was designed by Dr. John P. Konhilas and the other co-founders of Menolabs to provide relief from hot flashes and mood swings and to support weight loss. MenoFit® has been clinically tested to reduce hot flashes, balance mood, support heart and immune health, boost metabolism, increase mental clarity, improve gut/microbiome health, support bone, and joint health and help with weight loss. The proprietary blend of probiotics includes Bifidobacterium animalis ssp. Lactis 430, has been shown in multiple research studies to decrease total body fat mass and prevent fat gain. This research study regarding the effects of this probiotic on body fat mass can give you more information about just one of the studies done on this strain of probiotic: https://www.ncbi.nlm.nih.gov/pmc/articles/PMC5264483/
Well Rested by Menolabs™: This all-natural sleep support supplement is a great addition to your evening routine. By using ingredients to help relax muscles, lower brain activity, and keep your heart rate and blood pressure steady, your body will be more likely to fall asleep quicker and stay asleep longer.
Adding these supplements into your daily routine includes a healthy diet, stress management, and regular exercise may help you avoid some of the more unwelcome symptoms. Many of my clients have also found that probiotics and sleep supplements have helped them to have fewer negative symptoms during this change in their bodies.
Book your appointment today if you'd like to feel better and get guidance through all stages of menopause. Take the first step to improve your health and live a longer, quality life.