Super Simple Very Nutritious Cool Berry Smoothie
Start your day right with this simple smoothie that features leafy green spinach, colorful mixed berries, pineapple and cucumbers. Calcium-fortified orange juice adds sweetness and helps you meet your daily calcium needs.
Getting adequate fiber can be difficult. Most Americans get about 14g each day. You'll get 5g of fiber in every serving of this refreshing drink which is great when you are on the go. Try this Super Simple 4-Ingredient Pumpkin Spice Smoothie.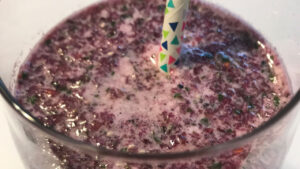 1 can (20 ounces) crushed pineapple in juice, undrained
2 cups peeled, seeded cucumber slices
2 cups frozen unsweetened mixed berries
4 cups packed spinach
2 cups calcium-fortified orange juice
Add ingredients to the blender. Mix until combined.
Makes 8 servings, about 1 cup each. (3/4 cup fruit, 1/2 cup vegetables)