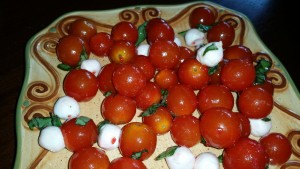 2 Tbsp. olive oil
2 Tbsp. balsamic vinegar
2 cups cherry or grape tomatoes
1 container (8 oz.) small fresh mozzarella balls (ciliegine)
Fresh basil leaves
Kosher salt
Ground black pepper
1. Whisk olive oil and vinegar in a small bowl.
2. Combine tomatoes, mozzarella and fresh basil in a medium bowl.
3. Toss with dressing.
4. Salt and pepper to taste.
Makes 4 servings.