Tart Cherry-Almond Granola Bars Recipe
A well-made granola bar is hard to find. Are there rows and rows of granola bars at your local grocery store? Of course there are. But these cherry-almond granola bars have 4 grams of protein, less than 10 grams of sugar, and zero mysterious ingredients. That is rare indeed.
Cherries. Almonds. Semi-sweet chocolate: these are what savory, tangy, and sweet dreams are made of. And once you start making your own granola bars you'll wonder why you ever spent so much time examining the labels of the bars lining your grocery store shelves. These snack bars are easy to make, healthful and delicious.
Try more of our snack recipes for meal planning. You can meal prep a batch at the beginning of the week and take on the go.
4 cups old-fashioned oats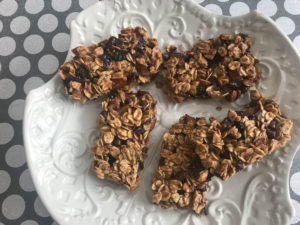 2/3 cup almond butter
½ cup pure maple syrup
2 tablespoons unsalted butter
1 teaspoon vanilla extract
3/4 teaspoon kosher salt
1 teaspoon cinnamon
2 egg whites
1 cup roasted unsalted almonds, chopped
½ cup sweetened dried cherries, chopped
½ cup semisweet mini chocolate chips
Heat oven to 350°F. Line a 13×9-inch baking pan with parchment paper, trimming excess.
On a separate baking sheet, spread oats evenly. Bake for 10-12 minutes or until toasted. Place in large bowl.
Place almond butter, maple syrup and butter in a microwavable bowl. Microwave on high for 30 second intervals until butter is melted. Add vanilla, salt, cinnamon and egg whites. Whisk until smooth. Combine into oats. Cool for a few minutes. Fold in almonds, cherries and chocolate chips.
Firmly press mixture flat into parchment covered pan using a spatula. If you do not compress the mixture, it will be crumbly.
Bake for 20 minutes or until lightly browned. Cool in pan on wire rack for 15 minutes. Remove from pan. Cool completely on rack. Cut into bars. (1-inch x 4-1/3 inch bars)
Makes 27 servings.