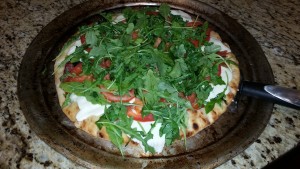 1 (12-inch) pizza crust
3 tablespoons pesto
6 ounces fresh mozzarella
4 ounces prosciutto, torn into pieces
2 plum tomatoes, sliced thin
2 cups arugula
1 tablespoon olive oil
1/8 teaspoon each salt and pepper
1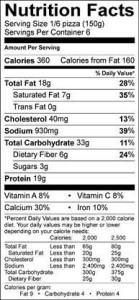 .  Heat oven to 450°F.
2.  Spread pizza with thin layer of pesto
3.  Top with mozzarella, prosciutto and tomatoes.
4.  Bake for 10-12 minutes or until cheese is melted and crust begins to brown.
5.  Top with arugula tossed with oil.  Sprinkle with salt and pepper.
Makes 6 servings.