The Yummiest Peanut Butter Banana Bran Muffin Recipe Ever!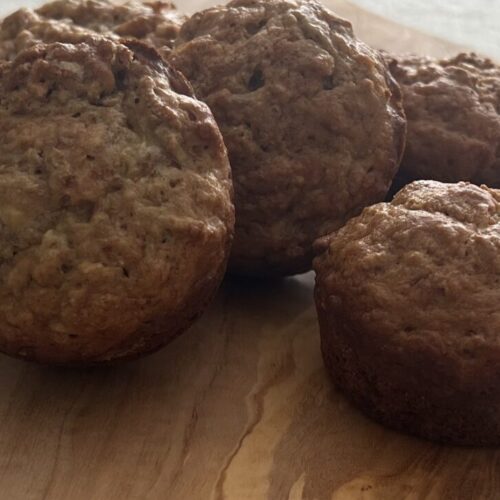 Peanut Butter Banana Bran Muffins
Looking for a quick muffin that is a good source of protein and fiber that you can take on the go? Makes enough so you can freeze half and save for another week. Perfectly easy recipe for meal planning.
Ingredients
2

cups

of flour

2

cups

whole wheat pastry flour or whole wheat flour

1

cup

powdered peanut butter

(PB2)

2

tsp.

baking soda

1/4

tsp.

salt

2

cups

original bran cereal

(Kellogg's All- Bran Original Cereal)

5

bananas

mashed

4

eggs

2

tsp.

vanilla

1/2

cup

butter

, softened

3/4

cup

brown sugar
Instructions
Heat oven to 350°F. Coat a standard muffin tin with cooking spray or line with paper liners.

Combine flour, powdered peanut butter, baking soda and salt together in a large mixing bowl.

In a separate medium bowl, mix cereal, bananas, eggs and vanilla. Let stand 5 minutes to allow cereal to soften.

Beat butter and sugar with electric mixer. Add cereal and flour mixture alternately. Divide evenly into muffin cups using 1/4 cup measure.

Bake for 20-25 minutes or until edges and tops are golden. Cool in pan 5 minutes before turning out onto a wire rack. Cool 1/2 of the batch completely and freeze.
Notes
Added sugar
4 g of added sugar per muffin.
How to Freeze Muffins
Place cooled muffins in airtight freezer bags. Squeeze out any air before sealing. Place freezer bag into another freezer bag and squeeze out air. Double bagging will help prevent freezer burn and dryness.
Repeat until all of the muffins are packed, labeled, and frozen for up to 3 months. Thaw or microwave to warm before serving.
Nutrition
Serving:
1
g
Calories:
150
kcal
Carbohydrates:
23
g
Protein:
5
g
Fat:
6
g
Saturated Fat:
3
g
Cholesterol:
45
mg
Sodium:
135
mg
Potassium:
147
mg
Fiber:
3
g
Sugar:
9
g
Calcium:
30
mg
Iron:
2
mg
Top 10 Peanut Butter & Banana funnies-
Why did the girl smear peanut butter on the road? To go with the traffic jam.
Today is national peanut butter day. Spread the news.
What do you call a sandwich full of envy? Peanut butter 'n' jealousy.
There's a rumor going around about peanut butter. I don't want to spread it though.
My friends came over for band practice. My dad came downstairs with a jar of peanut butter and said, "I brought this to go with your jam."
What happens when you mix crunchy peanut butter and creamy peanut butter? Crummy peanut butter.
Chuck Norris can gargle peanut butter.
I was making my daughter a sandwich and asked her what kind she wanted. "We can do peanut butter with either peach preserves or honey," I told her. "Honey, please!" "That's fine," I thought. "The peach preserves are my jam anyway."
Peanut butter was driving his toast when suddenly… There was a jam.
Did you hear about the peanut butter factory that exploded? The Reese's was in pieces.
Peanut Butter

Banana

Bran Muffins