New Legislation Require Restaurants to Disclose Calories, Nutrition Information for Menu Labeling.
ELMHURST, Ill. – July 7, 2009 – With the recent announcement that the Senate has reached an agreement on menu labeling legislation, restaurants across the country with 20 or more locations would be required to disclose calories and other nutrition information of food items on their menu boards or menus.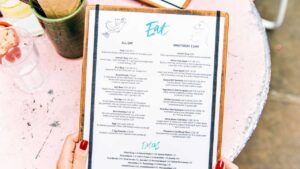 "Menu labeling will soon become national law, so the time is right for restaurants to start preparing for disclosure of this information," said Laura Walsh, RD, LDN, president and founder of the Walsh Nutrition Group. "Even if restaurants don't have 20 or more locations, they can still benefit from providing nutrition information and meeting their customers" growing demand for nutrition information while establishing a competitive marketing edge over their competitors."
States such as California and Oregon have already passed menu labeling legislation and several cities across the country have done so as well. The purpose of the federal legislation is to provide consistency in nutrition information provided at restaurants nationwide.
Walsh Nutrition Group can help restaurants develop a comprehensive menu labeling plan, analyzing recipes and menus using state-of-the-art nutrition analysis software to achieve the following objectives:

Comply with pending national legislation.

Provide calories and nutrition information for display on menus and menu boards

Increase establishment's appeal to health-conscious consumers by making nutrition information available and/or highlighting healthy options.

Distinguish restaurants from others by meeting consumers growing demand for nutrition information.
Restaurants and other food service establishments can learn more about the services provided by Walsh Nutrition Group by calling (630) 617-8757.
---
About Walsh Nutrition Group
Walsh Nutrition Group Inc. provides quality nutrition services for health and wellness promotion. Founded in 1999, Walsh Nutrition Group, Inc. has been delivering quality food and nutrition consulting services to companies and organizations both large and small, including such industry leaders as Kraft, National Restaurant Association, and IKEA FOOD. Founder and President Laura Walsh, RD, LDN started her career in the test kitchens of The Pampered Chef as a Certified Home Economist and has also worked at the American Dietetic Association, the USDA and as a nutrition instructor at The Cooking and Hospitality Institute of Chicago. For more information, visit www.walshnutritiongroup.com.