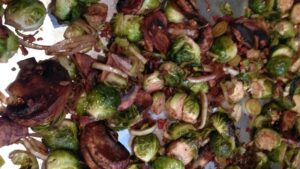 1-1/2 lbs. Brussels sprouts, trimmed, halved
1-1/2 Tbsp. olive oil
3/4 tsp. kosher salt
1/2 tsp. freshly ground black pepper
2 Tbsp. butter, cut into four pieces
Heat oven to 400oF. Arrange Brussels sprouts on a 15×9-inch jelly roll pan. Drizzle oil and sprinkle salt and pepper over sprouts; toss well. Bake 15 minutes. Toss well; continue to bake 10 to 12 minutes or until golden brown and tender. Remove from oven; add butter and toss well.
Makes 8 servings.
Developed by Karen Levin