Roasting is the best way to win over a reluctant vegetable eater. Just toss with olive oil, salt & pepper on a roasting pan and you'll wow nearly any vegetable skeptic. Roasting gives veggies a crispy exterior and brings to life all the flavors these plants bring to the table. Somehow a tray of roasted veggies almost feels like a guilty pleasure. But no need to feel guilty. Roasted vegetables are as healthy as they are decadent. This Roasted Vegetable and Quinoa Salad mixes some of our favorite vegetables with hearty greens and healthy whole grains. Once you start adding roasted vegetables and whole grains to your salad, you'll never look at a mixed green salad the same way again. So crank up that oven and get roasting.
Roasted Vegetable & Quinoa Salad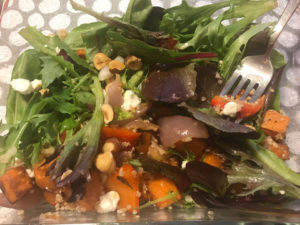 1 bag (16 ounces) sweet potato cubes
1 red onion, 1-inch diced
1 yellow bell pepper, 1-inch diced
1 red bell pepper, 1-inch diced
2 tablespoons olive oil
2 garlic cloves, minced
1 teaspoon kosher salt
½ teaspoon ground black pepper
1 cup dry quinoa
8 cups mixed salad greens
¼ cup crumbled goat cheese
¼ cup chopped hazelnuts
Cider Vinaigrette:
¼ cup apple cider vinegar
¼ cup olive oil
2 teaspoons Dijon mustard
2 teaspoons honey
1 shallot, finely chopped
Heat oven to 425°F.
Toss sweet potatoes, onion, and peppers with 2 tablespoons olive oil, garlic, salt and black pepper on large sheet pan. Roast for 40 minutes; turning once with a spatula.
Meanwhile, cook the quinoa according to package directions. Drain and transfer to a large bowl.
Add roasted vegetables with juices, salad greens, goat cheese and hazelnuts. Toss with dressing.
Makes 6 servings.