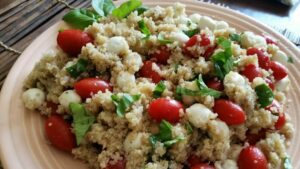 1 can (14-1/2 oz.) chicken broth
¼ cup water
1 tsp. minced garlic
1 box (10 oz.) whole wheat couscous
1 medium cucumber, peeled and diced
2 medium plum tomatoes, chopped
1 Tbsp. chopped fresh basil
2 Tbsp. balsamic vinaigrette dressing
1/8 tsp. salt
1/8 tsp. pepper
1/4 cup crumbled Feta cheese
Combine broth, water, and garlic in medium saucepan. Bring to boil on medium-high heat. Remove from heat. Stir in couscous and cover with lid for 5 minutes. Fluff with fork.
Mix couscous, cucumber, tomatoes, basil, dressing, salt, and pepper in large bowl. Cover and refrigerate 4 hours up to 24 hours. Stir in cheese just before serving.
Makes 8 servings, about 1 cup each.