Quick & Easy Guacamole Dip Recipe
Something as decadent as avocado is a nutritional powerhouse is a reason to celebrate.  When you whip up a bowl of fresh guacamole, the party will follow. Like our lightly salted baked tortilla chips, this recipe for guacamole comes together very easily. Make sure your avocados are good and ripe when you make this guacamole. If you have cilantro-averse guests, you can cut back on the divisive herb just a bit.
Guacamole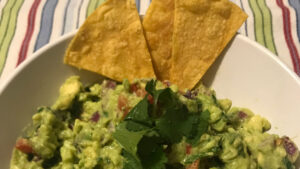 4 ripe avocados
2 limes, juiced
1 medium red onion, finely chopped
1 small tomato, seeded and chopped
1 garlic clove, minced
½ cup chopped cilantro
½ teaspoon kosher salt
Cut avocados in half; remove the pit. Scoop out flesh into a medium bowl. Mash avocados with a fork or pastry blender.
Add remaining ingredients; combine.
Makes 24 servings