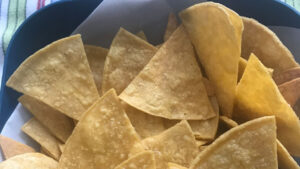 Homemade tortilla chips feel (and taste) special, but they come together quite simply. It takes just four simple steps to impress your guests with a basket full of warm, freshly made, lightly salted baked tortilla chips. Serve these baked tortilla chips with our freshly-made guacamole recipe, and watch those chips disappear.
Lightly Salted Baked Tortilla Chips
1 tablespoon olive oil
12 white or yellow corn tortillas
¼ teaspoon salt
Heat oven to 375°F. Brush onto both sides of the tortillas.
Stack tortillas and cut the pile into eight pieces.
Spread tortilla triangles in a single layer on two large baking sheets. Season evenly with salt.
Bake 6 to 8 minutes or until golden brown and crisp. Store chips in an airtight container.
Makes 8 servings.